Learning from Japan I LOVE JAPAN ❤ Special study group · social gathering
2/10 (Sat) 14: 00 ~
~ The baton of life that the former was connected ~
Siberian Presidential Music Theater
"Live you live" screening · talk, live
Location Takumi Yamazaki Office (Azabu Juban)
Social gathering TBD
Part 1 "Live you live" Screening 14: 00 ~ 16: 40
Special Talk 16: 50 ~ 18: 00
Yoo Sami Live 18: 00 ~ 18: 30
2 copies reception party from 19: 00-22: 00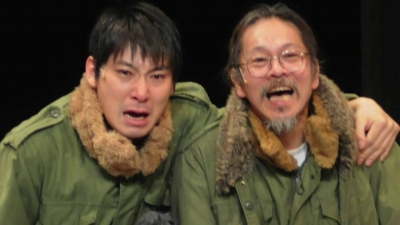 Membership fee 1 part 2000 yen
"Living you," screening
★ Mochizuki Ryuhei, Yamazaki Takumi, Yusami, Naomi Ito Special Talk
★ Yu Sammy Special Live Guitar Live
2 copies social gathering 3000 yen
For both participants, 5000 yen
You can participate in only one copy, and only two copies are possible.
【Alive you alive】
- Today's young people make time slips to know the anguish of war and the wonderfulness of life
The Japanese "Siberian detention" carried out by the Soviet Union shortly after the end of the war and "return" from returning from the detention ground to the main axis of the story,
Original music plays presented with dialogs, songs, music and dance.
While skillfully interlacing the modern and forced labor lands (Siberia) right after the end of the war,
Pastor's suffering over "life and life", conflict and growth of modern people,
It is an inspirational work that depicts the wonderfulness of life.
Past, present, future ...
Beyond spacetime, connect to various parts of the country
"Baton of life"
To the hearts of children who will be responsible for the future,
The wishes of the predecessor will light.
Prayers of the predecessors through theater,
I want to deliver it now.
Requested participants / inquiries
yu_jin726kyo_ko@yahoo.co.jp
__________________________

Takumi Yamazaki Book, English ver.
↓↓
http://www.amazon.com/Shift-ebook/dp/B007VSDZPG/ref=sr_1_2?ie=UTF8&qid=1370728415&sr=8-2&keywords=shift+takumi+yamazaki
Able to download if you click this site.