Yesterday was my second Australian Open experience!
I saw Nishikori players last year.
In this year, the girls doubles ♪
It was a fierce battle!
Http://www.nikkansports.com/sports/news/1769740.html
At the tennis tournament, the Australian Open women's doubles quarter-finals, a pair of Hozumi Eri and Masato Kato won the pair of Croatia and German players straight and in a pair of Japanese players, in the Australian Open for the first time, at the four major conventions, went to the best 4 for the first time in 15 years and it ranked at the highest ever. Http://www3.nhk.or.jp/news/html/20170124/k10010850791000.html
First best 4!
If that one can be taken ...
Even though they were in the final.
It is easy to say "tarareba." lol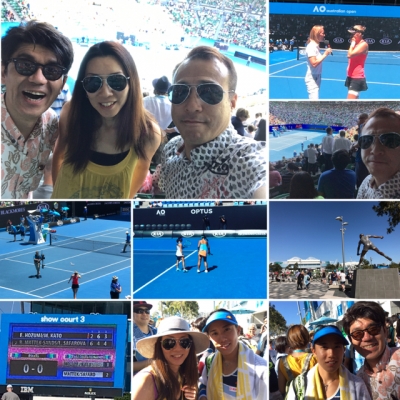 Finish the game and went to the seminar in a hurry!
Highest excitement with the highest number of participants ever.
However, my throat withered because there was no microphone. lol
Kana-chan,
Thank you very much.
Koji
I am always grateful for your help!
Also a social gathering
Great excitement!
Ah,
Tennis, I want to go to see ~ ♪
Serena Williams was also amazing ...
Both pliskova and lucic baribni ...
However,
I was impressed by two Japanese people~♪

Takumi Yamazaki Book, English ver.
↓↓
http://www.amazon.com/Shift-ebook/dp/B007VSDZPG/ref=sr_1_2?ie=UTF8&qid=1370728415&sr=8-2&keywords=shift+takumi+yamazaki
Able to download if you click this site.