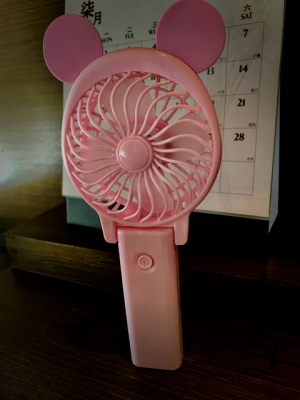 I bought a hand - held fan.
I bought it with a price of 700 yen.
In the world's largest starbucks
T-shirt was cute but I did not buy it for 6000 yen · · ·
Tumbler was expensive at 7000 yen and quit.
This fan, causing a bad condition on the second day of purchase,
Huh? ! Batteries broken? ! When becoming
Gutsuri I was sad.
Somehow it revives on the third day! ! !
Even now it is moving.
Everyone should be careful as it is hot!
__________________________
"Human life is truly a little thing.
You should live by doing what you like.
In the world during a dream,
Only doing something unfavorable,
It is a foolish thing to live in pain. "
(Yamamoto Chokyo Saga Nabeshima clan)
From Nodacchi Mail magazine ...
It is true.
It's true.
I really want to live by doing what I want to do.
What do you really like?
I like to learn ~
I want to know the psychology.
I want to know the truth.
Eat something delicious
Go to a massage
Move your body
Learn. lol
Share what you learn.
Something,
It's shallow, but deep ~ ♪
__________________________
Thank you for your help.
I received an application,
Music show "You live alive" 8/31 Although it is a performance from 14 o'clock,
Because of the schedule
The schedule for Yamazaki Takumi's participation changed.
8/30 It will be times from 19 o'clock.
I am sorry very much with a sudden change.
If you can adjust the schedule,
By all means, it is a very wonderful music drama either together or separately,
I hope to participate.
Please do not hesitate to contact us.
The tickets have already been ordered and can be changed now.
Please contact us by return.
① 8/30 I will participate with Takumi Yamasaki on the occasion of 19 o'clock.
② Participate in the times of 8/31 14 o'clock.
③ Participate in other schedule (Please tell us the desired date)
④ Cancel (Cancellation fee will be confirmed)
Sorry to trouble you, but thank you for your continued support.
Yamazaki Takumi Staff Kyoko Child
↓ ↓ ↓
It will be the 4th replay this summer
A music drama 'Let me live you'
Performance Details / Ticket Sales / Cast information has been lifted.
RYUHEI COMPANY Presents
Music drama "You live alive" 2018
Directed / dramatized: Mochizuki Ryuhei
Total Music Conducted: Yusumi
Screenplay: Maki Kaka
Performance date and time
Thursday, August 30, 2018 - Sunday September 2 (Sun) All seven performances
Thursday, August 30, 19: 00 Opening A
Fri August 31 (Fri) 14:00 Launch B / 19: 00 Launch A
September 01 (Saturday) 12: 00 Opening A / 17: 00 opening B
September 02 (Sunday) 12: 00 Opening A / 17: 00 opening B
Opening 30 minutes before the opening
[place]
Tokyo Broadcasting Arts & Film · Actor College 1F Special stage
3 - 14 - 9 Nishikaku Edogawa-ku, Tokyo 134 - 0088 Tokyo
(Tokyo Metro Tozai Line "Nishikasai Station" North Exit 3 minutes on foot)
[ticket]
Advance
Premier seat (front row) 7800 yen (tax included)
Free seat 6800 yen (tax included)
Student seat 5000 yen (tax included)
The same day
Free seat 7000 yen (tax included)
Student seat 5000 yen (tax included)
Advance sales (first come first served basis)
June 16th 10: 00 ~ June 24: 23
General release: June 30th 10: 00 ~
【Play guide】
Campetti 0120-240-540
Weekdays from 10:00 to 18:00 Operator support
http://confetti-web.com/kimiyo_ikite2018 (Accessible from June 8th)
【Contact Information】
Production: acali
MAIL: info-rc@acali.co.jp
TEL: 03-6805-0544
【Performance website】
__________________________
Taiwan from tomorrow・・・
Please tell me if Taiwanese friends!
↓↓↓
this is taku!!!
I`ll go to taiwan.
I have a seminar there.
If u can, please join!!!
↓↓↓
takumi yamazaki Chinese blog
山崎拓巳紹介映像
__________________________
Mail magazine from Ken Honda・・・
Also this time Shanghai tour, the topic of Mr. Ken Honda goes up many times.
True, Mr. Ken Honda is wonderful.
What this book says is
It is a way to improve individual's power.
Happiness and success
Doing so draws.
I learned from Honda Ko - chan
"Change premise" is.
Anyway it's your setting for "many people will like you"
What kind of you are you ~
↓ ↓ ↓
Mr. Maki Matsuzawa's
It is "100% liked 1% custom".
Author Mr. Matsuzawa is a manner teacher, a customer satisfaction improvement concert
It is Lutant. Over 20,000 people have taken her lecture so far
, 97% of which is a repeater, even a very popular lecturer
Yes. In addition to courses for individuals, corporate training and high school ·
He also gave lectures at universities and others, and he was active in a wide range of fields. Television's "Miane
It appeared in ya, and it was also published in the Mainichi Shimbun,
It is taken up in the air.
Before she became a manner lecturer, she worked for ANA's CA for 12 years
There was. I met with you today in the past 12 years
It summarizes the wisdom learned from 5 million customers.
Let's introduce some of the contents of this book by quoting it.
==========================
Page 34
Japanese martial arts and entertainment have the word "inundation". End technique
It seems to say that "Do not cut your heart and leave a lingering finish" even after you do
However, I think that 'Residuality is important' in relation to human beings.
"Person who remains in the impression of the opponent" is "1 second breakup (last imp
Lecture) ", finally, people who open the heart of the opponent
It adds a word (= inferiority).
51 pages
"Etiquette is a norm of behavior based on compassion for others
Good manners are those who try to live according to this norm
It is a warm heart of mind, a manifestation of good will. "
In other words, etiquette is "type", mana
- It is "a heart to notice opponent".
98 pages
Understanding happens by accident, misunderstanding inevitably happens
193 pages
It is said that the etymology of "happiness" is "combination".
(Somewhat)
"People can not live by themselves" If you know that,
Because I can do "to comply with each other" with nature
Is not it? By doing "to comply" with each other's pleasure
So, as people can feel real "happiness"
Snow
==========================
When we say manners, we should do this at such times
Some people get impressed like a rule that "is not"
I will not. However, Mr. Matsuzawa's manners, as well as the quotations above
As it is, it is "a heart to notice opponent". At what time, what time
If you behave like that, can you feel comfortable with each other
It is based on whether you can nurture your mind. That
Because of this, manners that are covered in this book,
It is just a thing with a sense of satisfaction.
I have been interacting with people who are said to be successful people in various fields
I got it. Among them we met over the years
The more people who continue, they acquire this manner and encounter one after another
I am fascinated. What is manners, how do
Can we build good human relations for each other? If you are interested, why not?
Please read this book.
+ - + - + - + - + - + - + - + - + - + - + - + - + - + - + - + - +
"100% liked 1% custom"
Maki Matsuzawa (Author)
__________________________

Takumi Yamazaki Book, English ver.
↓↓
http://www.amazon.com/Shift-ebook/dp/B007VSDZPG/ref=sr_1_2?ie=UTF8&qid=1370728415&sr=8-2&keywords=shift+takumi+yamazaki
Able to download if you click this site.