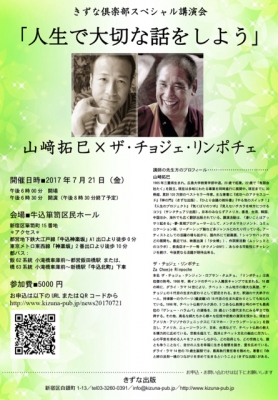 Kizuna Club Special Lecture
"Let's talk about important things in life"
Date and time ■ July 21, 2017 (Friday)
Opening at 6:30 pm (scheduled to end at 8:30 pm)
Venue ■ Ushikari Tansu Community Hall
Shinjuku-ku, 15, Nishiki-machi
Oedo Metro Toei Subway Oedo Line "Ushikome Kagurazaka" A1 exit 0 minutes on foot from the exit
Tokyo Metro Tozai Line "Kagurazaka" Exit 2 on foot 10 minutes on foot
Rice 62 Series Kotakita Bridge Garage in front - Toei Iidabashi Station Or,
Bridge 63 series Kotakitabashi Garage in front of Shinbashi station "Ushimei Kita-cho" get off
Participation fee ■ 5000 yen
Application from the following URL or QR code
http://www.kizuna-pub.jp/news20170721
Za Choeje Rinpoche
Za Choeje Rinpoche Tenzin Lobsang Dhamchoe was born in 1968. Rinpoche grew up on a small farm with his grandparents. The local village Lama presented Him the birthname of "Choejor Dhondup
(Accomplished Spiritual Abundance)". As a young boy, Rinpoche discovered a love for Tibetan folk
tales and spent many hours reading ancient stories to elders in the neighborhood. His enthusiasm of
Tibetan literature inspired him to join the Tibetan Institute of Higher Tibetan Studies in Sarnath,
Varanasi, India in 1982.
In 2001, Rinpoche, together with some well wishers and Dharma students, founded Emaho Foundation in Scottsdale, Arizona, where he currently resides. Emaho's main mission is to assist with individuals' spiritual development, and to support humanitarian projects. Rinpoche has taught in the United States, Japan, New Zealand, and many other countries. His style of conversing, with laughter and openness, generates a comfortable environment for all people. One of most simple yet profound pieces of advice he often gives is "stop struggling against the struggles in life." His unique skill of teaching, and his ability to apply these teachings into daily lives, has helped many spiritual practitioners throughout the world.
・・・・・・・・・・・・・・・・・・・・・・・・・・・・・・・・・・・・・・・・・・・・・・・・・・・・・・・・・・・・・・・・・・・・・・・・・・・・・・・・・・・・
Please contact below for inquiries / inquiries
Shinjuku-ku, Shinjuku-ku 1-13
info@kizuna-pub.jp

Takumi Yamazaki Book, English ver.
↓↓
http://www.amazon.com/Shift-ebook/dp/B007VSDZPG/ref=sr_1_2?ie=UTF8&qid=1370728415&sr=8-2&keywords=shift+takumi+yamazaki
Able to download if you click this site.