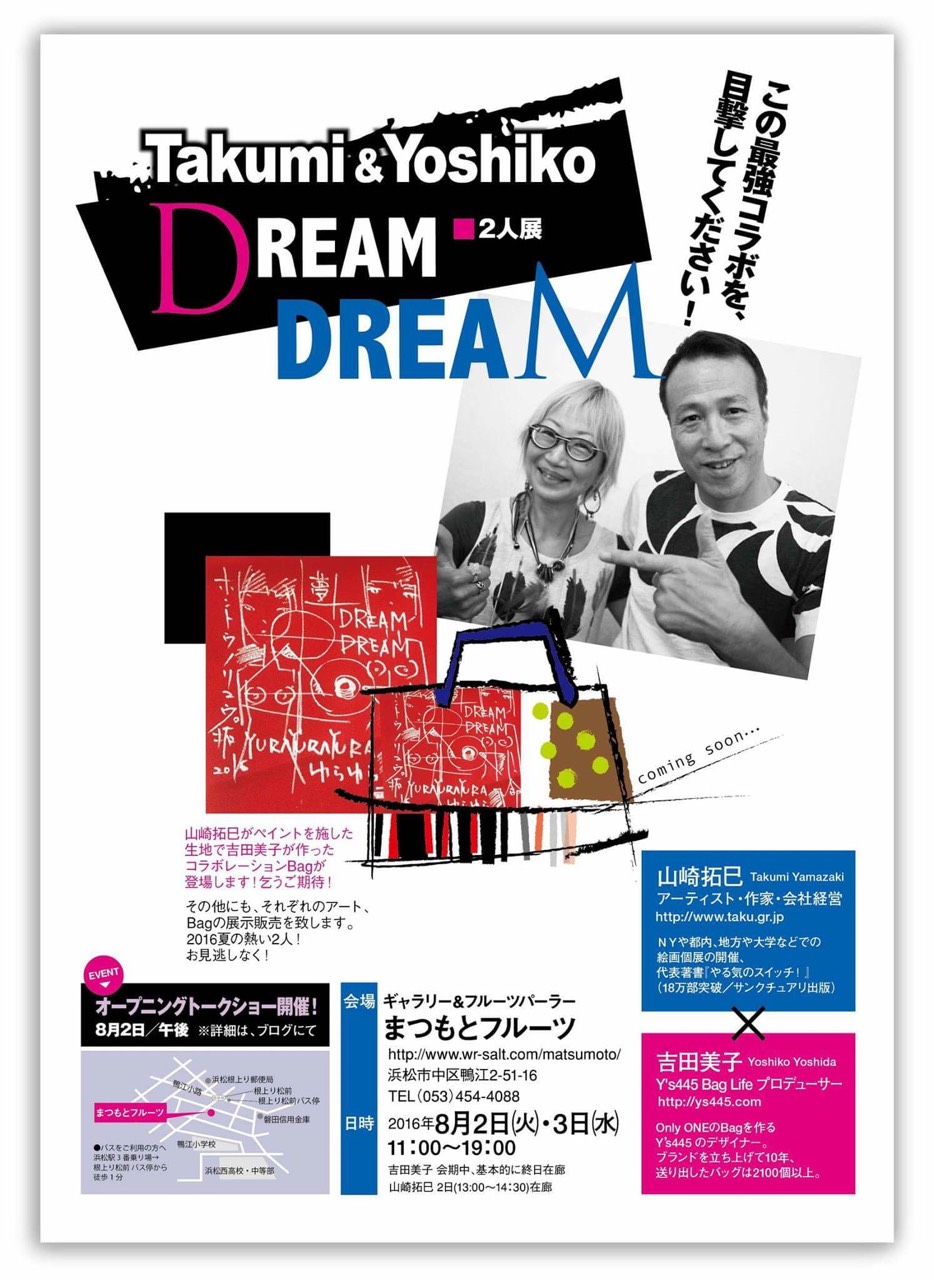 Takumi &Yoshiko Exhibition

DREAM DREAM
~ 2016 summer! This collaboration is again realized!
In fabric, Yamazaki Takumi was subjected to paint
Collaboration Bag that Yoshiko Yoshida made
Appeared!
stay tuned!
Besides, each of Art,
We will exhibit and sell Bag.
2016 hot summer two people!
Do not miss it!
◆ venue
Gallery and fruit parlor Matsumoto fruit
http://www.wr-salt.com/matsumoto/
Gu, Hamamatsu Kamoe 2-51-16
TEL (053) 454-4088
◆ date and time August 2, 2016 -3 days
11:00 to 19:00
During Yoshiko Yoshida session, basically all day standing corridor
Yamazaki Takumi 2 days (13: 00-14: 30) standing corridor
◆ Events
Opening talk show host!
August 2 / PM
※ For details, at the blog
······················
Yoshiko
Y's445 Bag Life producer
http://ys445.com
https://www.facebook.com/Ys445.bag
Make Only ONE Bag
Designer of Y's445.
Up to 10 years up the brand,
Feed bag is more than 2100 pieces

Takumi Yamazaki Book, English ver.
↓↓
http://www.amazon.com/Shift-ebook/dp/B007VSDZPG/ref=sr_1_2?ie=UTF8&qid=1370728415&sr=8-2&keywords=shift+takumi+yamazaki
Able to download if you click this site.