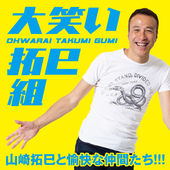 Takumi Yamazaki was born in Mie prefecture, Japan in 1965. He dropped out of Hiroshima University's Department of Education, but founded 'Taku Co., Ltd' at the age of twenty-two and currently owns three companies. Considered a best-selling author, he has written eighteen books that have sold a grand total of over a million copies, including Hitorikaigi no Kyokasyo, Yaruki no Switch,
Jinsei no Project, and Kikubari no Tsubo (published under Sanctuary Publishing).
Yaruki no Switch has sold over 180,000 copies and was ranked 3rd in the self-enlightenment division and 7th in the business book division under the 2009 Oricon Business Book Ranking System. In 2010, it was translated into Chinese and English and published in the United States in 2011 under the title SHIFT. He is well-known as an author and lecturer both domestically and abroad, including such countries as the US, China, Hong Kong, Taiwan, and Korea..
Takumi's first seminar DVD "Kikubari no Tsubo Practice Seminar" recorded a Top 1 turnover for five months continuously at TSUTAYA DVD Rental under the General Education Business Division. He lectures on various topics, including leadership theory, communication techniques, and mental management. He is well-known for creating the saying, "amazing things happen unconciously." Takumi has been nicknamed a "dream producer."
Besides extraordinary public speaking skills, charisma, and creative business theory, his powerful messages and unprecedented perspective continue to attract both men and women alike. Additionally, he publishes newspapers such as "Make Your Monday Happier: Yamazaki Takumi Communication" and "Taku Addiction." deliverying mobile site of know-how and his experiences with his real voice such as "SUGOKOTO.com," "Taku Raji Podcast" and "Kerotaku" from time to time.
Takumi's goal is not only to make his business endeavors successful, but to also make his own dreams come true and simply enjoy life. He lives by the motto "Life is Only One Project. Takumi is an essayist, artist, illustrator, director, designer, salesman, and a music producer. His work has been displayed in New York galleries, the Japanese countryside, and multiple Universities.
«Information»
Official website: http://www.taku.gr.jp/
Blog: http://www.taku-blog.jp/
Facebook: https://www.facebook.com/takumi.yamazaki
Facebook fan page: https://www.facebook.com/takumiyamazaki49
"Yamazaki Takumi communication" LINE @: http://line.me/ti/p/% 40 takumi
English: http://taku49.blogspot.jp/
Chinese: http://blog.sina.com.cn/shanqituosi
Twitter: http://twitter.com/dana49
We also deliver free e-mail magazines such as "Takumi Yamazaki communication Monday will be fun" "Takuchudoku"!
For inquiries: taku-staff@taku.gr.jp
· · · · · · · · · ·
● For those who wish to ask Takumi, contact to [Takumi Yamazaki Podcast "Owarai Takumi Group" question form].
Https://goo.gl/6 MqaBt
For inquiries about podcast programs,
Takumin (Podcast Production Team made by Takumi Yamasaki and everyone)
Please contact ateliersakuran@gmail.com.
※ Please enter "Yamazaki Takumi Podcast" in the title.

Takumi Yamazaki Book, English ver.
↓↓
http://www.amazon.com/Shift-ebook/dp/B007VSDZPG/ref=sr_1_2?ie=UTF8&qid=1370728415&sr=8-2&keywords=shift+takumi+yamazaki
Able to download if you click this site.