Taku ☆ JAPAN "New fan site opened!
A new fan site that is a new attempt by Takumi Yamazaki was opened!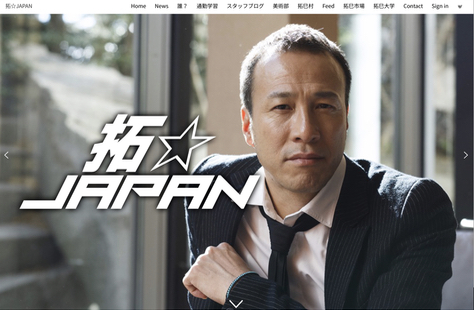 ⇒ This is a paid site for enrollment system.
Valuable information will be gathered one by one to Takumi.
I always thought about sharing them with many people.
By entering (joining) this Takumi College this time,
Using commuting time and rest time, you can easily obtain those information.
<What can be learned at Takumi University>
★ We will deliver Takumi's valuable message with animation including things taken in the past.
★ Taking advantage of Takumi 's network, we will deliver a dialogue with nice people.
★ You can see artworks drawn by Takumi.
And we are thinking about future newsletter, announcement, goods sale etc for student (members) of Takumi University.
Because it is a very attractive site,
We are waiting for enrollment (enrollment) of many people!
⇒ Here, as a resident of Takumi village
We introduce therapists and practitioners recommended by Yamazaki Takumi.
And from now on, we are planning to recruit residents of Takumi village so please look forward to it ☆ 彡
⇒ We sell Takumi's art work (illustration) and goods.
In the future, we also plan to sell items recommended by Mr. Takumi for a limited time.
In order to be a fan site that many people can visit,
From now on I will continue to make more content!
"Taku ☆ JAPAN" Thank you very much!

Takumi Yamazaki Book, English ver.
↓↓
http://www.amazon.com/Shift-ebook/dp/B007VSDZPG/ref=sr_1_2?ie=UTF8&qid=1370728415&sr=8-2&keywords=shift+takumi+yamazaki
Able to download if you click this site.